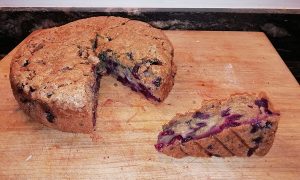 It's July and the blackcurrants are ripe, raising the perennial question: what the hell do you do with blackcurrants? Not a big fan of the jam. Can't seem to make it taste like Ribena or fruit gums. At the same time, my rhubarb is throwing up its usual disappointingly small stalks (maybe I bought a bonsai version by mistake). So I decided to try adapting a favourite apple cake recipe to see if it might prove a tasty depository for all those blackcurrants and scraps of rhubarb. And guess what – it's a bloomin' revelation!
A beautiful sponge with a hint of cinnamon, infused with the delicate tang of blackcurrants and rhubarb, but not too tart. And the fruit gleams out like jewels. It's almost a shame to eat it. So here's the recipe. Go forth and make it.
Ingredients
175g margarine or butter
175g caster sugar
350g plain flour
1.5tsp bicarbonate of soda
1tsp ground cinnamon
Pinch of salt
3 or 4 stems of disappointingly small rhubarb (or 1 normal sized stem) chopped into small bits
450g blackcurrants
150ml milk
Demerara sugar
Method
Beat the marg or butter until soft (or just leave it out for a while). Add the caster sugar and beat some more. Sift in the flour, bicarb, cinnamon and salt and mix to a crumby texture.
Add the fruit and fold in gently until it's evenly distributed. Add milk a bit at a time until you have a soft, fruity batter, about the consistency of plaster before they put it on the wall. You might need more than 150ml, you might need less. This is where your baking acumen comes into play.
Line and grease a normal sized cake tin (mine's about 20cm in diameter) with baking parchment and spoon in the mix. Push it into the sides and make a depression in the middle to allow for the forthcoming uplift. Sprinkle with the sugar and bake at 180˚C/160˚C Fan/350˚F for about an hour and a quarter. If you've made a wetter batter, it might need more. Test it by sticking a fork or other such prong into the middle and if it comes out clean, it's done. Let it cool and firm up for a few minutes and then de-tin it onto a cooling rack.
Eat in one go and make another one.