Content created with Balance
A few examples of the variety of content from Balance
Action Planning
Case study research and writing
Action Planning provides specialist consultancy services to charities, helping them with all aspects of governance and strategy, fundraising and marketing, people and practice. Having written the copy for Action Planning's renovated website, designed by Knibbs, Balance was asked to take care of writing all the new cases studies, which means interviewing clients, always with Action Planning's reputation in mind.
Read the case study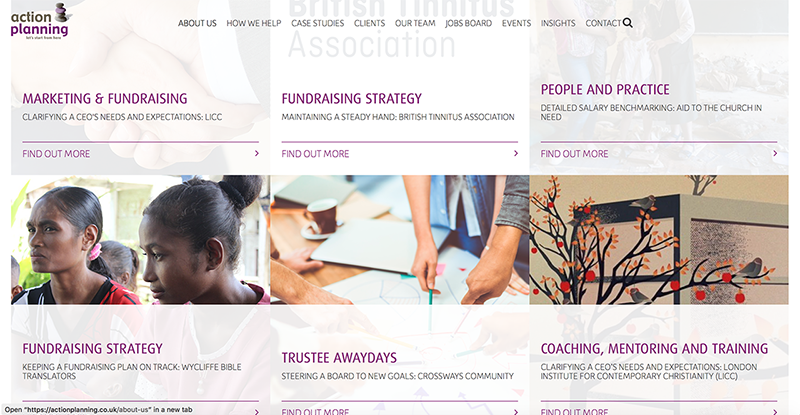 Action Planning Testimonial
"For years we struggled and failed to write up case studies on our projects – somehow we never had the time. The system we now have in place with Balance is efficient and effortless, ensuring a constant supply of up-to-date stories. Tim is not only efficient – he quickly grasps the essence of what is often a complex situation, boils it down to a few simple but compelling paragraphs, then charms a (usually complimentary!) quote out of the client. It's a great service!"
David Saint, Founder and CEO, Action Planning
Tone Scaffolding Services
Brochure content
Tone Scaffolding Services, based in Outwood, Surrey, designs and builds specialist scaffolds for a range of construction and restoration projects, including the Houses of Parliament, Heathrow, Gatwick and Crossrail. Balance provides editorial and copywriting services to Tone, which include compiling the company brochure, writing cases studies and supplying ad hoc writing services.
Read the case study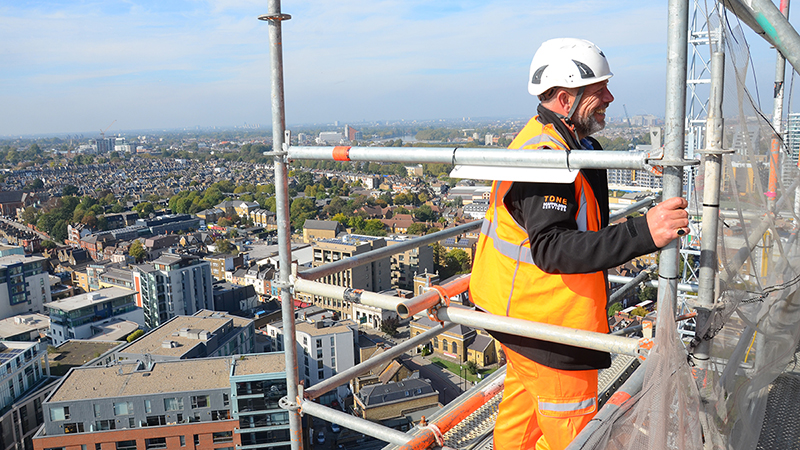 Tone Testimonial
"I'm very proud of the work we do here at Tone and I wanted that to come across in the brochure. I also wanted it finished! Balance took on the organisation needed to get it over the line, which meant liaising with our busy project managers – not always easy, especially 20 storeys up. I'm really pleased with the results."
Andy Needham, Managing Director, Tone Scaffolding Services
ILG
Content & PR
ILG is a fast-growing logistics company based in the South-East. Balance is ILG's copywriting resource, writing web pages, news articles, advisory articles and PR features, such as this piece about ILG's work with local charity the Aldingbourne Trust. The trust help adults on the autistic spectrum and/or with a learning disability to reach their potential through employment. ILG provides employment. The article was given a double-page spread in Business Edge, the magazine of the Gatwick Diamond business network, and featured on the cover of the magazine. ILG were delighted with the coverage.
ILG Testimonial
"I thought you might like to see the magazine with the article you recently wrote for us. We were thrilled to make the front cover! Massive thanks for your work on this. Everyone here is really delighted with this feature."
Joanne Oliver, Marketing Manager, ILG
Fox+
Video script
Fox+ is a video production company run by Sam Fox. They work with brands, agencies and businesses across the UK to create effective and engaging video content for a whole range of uses. From short stings for social media to adverts to company profile videos, they do the job with creativity and charm. This job was a company profile for a business that specialises in restoring concrete structures. It needed to get across the complexity of the work, the benefit in terms of cost and the environment and the company's longstanding experience and pioneering track record… all in three to four minutes. Sam asked Balance to script it.
Seven46
Magazine content
Seven46, based in London, was one of the world's leading sports marketing agencies and Balance worked for them on numerous projects, including London 2012 and customer magazines for Atos. Our most recent project was writing articles for Impact, a magazine for impact protection manufacturer D30.
Commissions ranged from an interview with World Superbike Champion and Moto2 racer Sam Lowes to a day in the life piece on the technicians who design and manufacture D30's innovative products. This required quick research and an ability to grasp some highly technical language, which then needed to be written for a mainstream audience.
Seven46 Testimonial
"We first worked with Tim during the run up to the London 2012 Olympic and Paralympic Games. Balance Media were part of our content team for various key publications and websites produced for the London 2012 Organising Committee and the Olympic Delivery Authority. Since then, we've worked with Balance on a number of editorial projects spanning the very different worlds of sport, technology and innovation. Whether interviewing an athlete or a CEO, or explaining a technical concept to a non-specialist audience, we can rely on Balance to interpret a brief accurately and creatively. Their copy is unfailingly well researched, engaging and always delivered ahead of deadline. We're happy to recommend Balance to anyone seeking a copywriter with gold medal-standard credentials."
Andrew Shields, Head of Editorial Services, Seven46
Mondo
Website content
Mondo supplies shelving, trolleys and other essential hardware to retail and wholesale stores around the UK. The business had grown from supplying equipment, signage and accessories to managing entire shop fit out projects, and wanted to reflect this new level of service. At the same time it was undergoing a rebrand, carried out by Knibbs branding and web design agency.
Balance spent a couple of hours with Mondo director Paul Mumford, learning about Paul and his business and gaining an understanding of the way he wanted it portrayed. We researched the market, the competition and keywords and presented Paul with a plan that would make it as easy as possible for him to keep the project moving amid the day-to-day demands of running the business.
We delivered the copy on schedule and then spent another hour with Paul fine tuning it, before sending it to Knibbs to be added to the new website content. We then checked the website to make sure it all read and worked as it should, while Paul continued to tend to his clients and bring in new business all the while.
Mondo Testimonial
"When the guy who writes the copy for your website asks you to write a testimonial about the service he has provided, you would think it's pressure on… far from it. Tim is relaxed, he takes time to understand your business and what you are looking to achieve with your website. After listening to my warblings about Mondo, what we do, what we offer, how great we are etc, Balance found our company voice brilliantly using a tone and ultimately words that give our website the clear message it deserves! I would 100% recommend Balance to any business that is looking to get their website up and live as soon as possible. After two short meetings and a couple of tweaks we had the copy done."
Paul Mumford, Director, Mondo