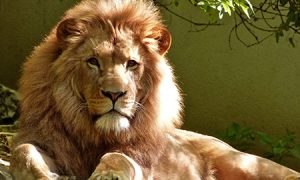 For some reason, possibly to do with cricket, I keep waking up humming the melody to Football's Coming Home – specifically the lines 'Three lions on a shirt'. It's a strange line when you think about it, especially when you think about it at 3 o'clock in the morning.
Three lions on a shirt. The symbol of English pride. A pride of lions. But why lions? How on earth did this African carnivore come to represent a chilly little kingdom six-and-a-half thousand miles from the Serengeti?
What did Richard the Lionheart know of lions? Sure, the remains of a gigantic prehistoric lion have been found in Suffolk, so lions did once prowl this green and pleasant land, but by the time Richard came along they had long since caught the ferry back to France and retreated to warmer climes.
There were lions in Greece until around 100BC and they survived in Asia Minor until the end of the first millennium AD, but the Romans witnessed (and effectively brought about) the extinction of the Southern European lion a thousand years before Richard came to the throne.
Nevertheless, there was a profitable trade in captive lions throughout the first millennium, such was the fascination for these majestic beasts. The Romans continued to buy them in from North Africa to eat Christians and there was clearly enough knowledge of lions and their fearsome and dignified deportment for Richard to be called 'Lionheart' and to adopt the three lions as his heraldic emblem around 1200.
He wasn't the only one. Lions featured on royal symbolism all over Europe. Some were 'rampant' (French for climbing), some 'passant' (striding), some 'sejant' (sitting), some 'salient' (leaping) etc. Some had wings, some had two tails, some had two heads and some looked remarkably like Lee Evans after a particular vigorous gig. In short, they looked like they'd been drawn by a bad fotofit artist from a description provided by an unreliable witness.
It's possible that by now the lion had become a mythical beast in Northern Europe, like those other heraldic faves, the dragon, the griffin and the unicorn. You didn't have to believe it existed, you just needed to know it stood for dignity, pride, courage and strength. But then King John established the Royal Menagerie in London, while Richard was off crusading, and managed to secure a job lot of lions from a bloke he met in the pub.
Now the herald painters had something real to go by and the shields improved markedly. Knights would pause mid-battle to admire one another's artwork, before returning to the serious business of chopping each other's limbs off.
It's unlikely, however, that an English king ever saw a lion in its natural habitat until the Royal Family started going on safaris in the 20th century. Today there are around 20,000 lions living wild in Africa – a tenth of what there were a century before. The King of the Jungle is now classified as 'vulnerable' – not a word Richard I would have wanted to be associated with.
We're about to enter the zodiac house of Leo. Time to reflect. You could do with a break from work, something in your house needs fixing, the postman will put something through your letterbox and you may find yourself watching a film about talking lions. On Monday you will find yourself singing Béyoncé songs and on Tuesday you will wake up humming Football's Coming Home.