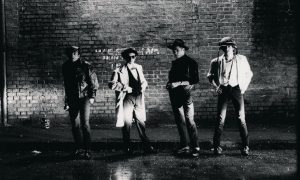 Today is my brother's birthday. I'd like to buy him a present but the choice is so hard. Most of the gifts I've ever bought him have lost their value the moment he finished drinking them.
I should declare that my track record with buying presents is not impressive. Years ago, in the early flush of romance, I was once inspired by something I'd seen on TV to chance my arm on buying my wife-to-be not one but two items of apparel. The first was a very fetching wide brimmed felt hat, which I felt would suit her bohemian style. The other was a generous black cape, which was ideal for the winter months.
I watched in eager anticipation as she unwrapped this imaginative gift on Christmas Day, but then shrank in dismay as she reluctantly put them on. All she needed was a sword and I'd have turned the apple of my eye into Zorro! During the days of tortured introspection that followed, I realised that the TV item that had inspired me must have been an ad for Sandeman Partners Port.
Anyway, my brother and I tend not to do presents. After all, what do you buy the man who has you as a brother? He wants for nothing. The occasional acknowledgement of one another's existence is enough to affirm the eternal bond of love and loyalty that exists between us. We're not needy.
So when I look back over the decades, I can only remember one gift from me to him that was of any lasting substance: Sandinista! The Clash triple album – 2 hours 24 minutes of rock'n'roll chalk and cheese interwoven with pure gold for the self-imposed price restriction of £6.99. Absolute bargain!
While it wasn't as bad as buying your wife an iron, I have to admit there was a certain level of self-interest in this gift. In fact, I've still got it today. But that was the beauty of albums. As gifts went, they were a sure fire winner – an object, a piece of art and an experience all rolled into one. The year before, he'd bought me London Calling. I've still got that too.
Back in 1980, albums were still relatively new technology – compared to things like the steam engine anyway. The word came from the Latin for white (hence albumen: the white of an egg; and Albion: the name given to England because of the white cliffs, or perhaps the total cloud cover) and was originally a whitewashed board on which rules and other Roman interests were scribbled in black. In Medieval England an album was a book of blank white pages for writing, drawing, pressing flowers or whatever took your fancy – a scrapbook.
So the word came to mean a collection of things. When music and voice recordings were first committed to 78rpm records in the early 20th century, they could only hold a few minutes per side, so some record companies produced whole operas on a series of discs held together in an 'album'. Others sold empty record albums that you could put your own collection of records in, like a photo album.
The 12-inch LP only became available in 1948, just in time for rock'n'roll and the three minute pop song. Even throughout the 50s, though, LPs were slow to gain traction. It wasn't until the 60s that the idea of the album as we know it today really took off.
Taking a glance at the current UK album chart Top 30, it's good to see that modern artists are still putting their heart and soul into albums, even though most people listen to their music piecemeal as mp3s. There are some old names in there too: Ozzy Osbourne, Queen, Elton John, Fleetwood Mac… blimey! Not sure any of those would appeal to my brother.
Maybe I should just give him his copy of Sandinista! back.