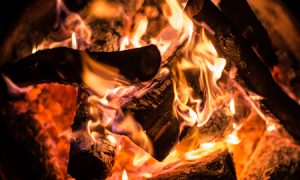 If you're planning a barbecue this weekend, you might be interested (and just a little excited) to learn that there'll be a bit of the pirate about you as you impale those bangers and keelhaul those burgers to within an inch of their life.
There is much mystery surrounding the barbecue. What should be a simple, primeval practice of preparing food over an open fire has become a smoky cloud of confusion, fuelled by claim and counter-claim. Just as you think you've sizzled your sausage somewhere approximate to perfection, some smartarse will lean in and tell you it's not a true barbecued sausage because you haven't given it the Memphis rub – or something along those lines.
And then, if you've done your work well, they'll develop mysterious stomach pains and be rushed to hospital with food poisoning.
Americans love a barbecue and there are at least four cities in the US that claim to be 'The Barbecue Capital of the World'. I won't name them until they've proven it. Funny how the cooking of large hunks of meat over an open flame brings out the competitive alpha male in people – even women! The obvious solution would be for them to settle it once and for all with a cook-off, but then they would have to agree on what a barbecue really is and that's where it all gets hazy.
Should it be beef? Should it be pork? Is it the whole hog or just a shoulder? Or ribs? What marinade should you use? Is a gas barbie really a barbie or just a cooker that doesn't fit in the kitchen? The purists have a term for such things: faux 'cue. Try saying that in a Texan accent. It causes a lot of fights.
There is a 'barbecue belt' in the US, which isn't, as you might imagine, a belt that's about two foot longer than the average belt, but a geographical belt, encompassing all the states that claim to cook barbecue better than anyone else. Texas, Missouri, Kentucky, Alabama, Tennessee, South Carolina, North Carolina… they all have their specialisms, but oddly none of them seem to be vegan falafel.
There is an argument for introducing barbecue as an Olympic sport, to truly settle the 'who does it best in the world' argument. When you consider how much the Aussies worship the barbie, the South Africans die for a braai and the English love a burnt chicken drumstick gently marinated in rain, there would be no shortage of contenders. Let's face it, if beach volleyball can get in…
Barbecue already has its World Records too, most of them involving size. There's the World's Biggest Barbecue, the World's Biggest Chicken Barbecue, the World's Biggest Salmon Barbecue, the World's Biggest Bloke After Eating Barbecue… The record for the World's Biggest Open-Air Barbecue (is there any other kind?) was set in Asunción, Paraguay, in 2008, with the cooking of 41 beef carcasses over rows of smouldering fire pits, in a scene reminiscent of the foot and mouth crisis in the UK a year earlier.
Still fancy that barbie this weekend?
OK, so let me explain the pirate bit. There are two theories as to the origin of the word barbecue. The least popular is that it comes from the French 'barbe à queue', meaning 'beard to tail', supposedly referring to the fact that those old French barbecuers liked to grill the whole animal. It seems plausible, until you try to recall the last time you saw a pig with a beard. Even in Shoreditch.
The more widely accepted version is that barbecue comes from the Spanish 'barbacoa', adapted from a word used in South American/Caribbean dialects in the 1600s to mean a raised framework of sticks, which was used for both curing meat and sleeping on (preferably not at the same time). Elsewhere in the region this 'barbacoa' was called a 'boucan' and was used by French settlers, who hunted wild pigs and cattle and used the 'boucan' to cure their meat. When the authorities muscled in on their trade, they were driven into more lawless pursuits on the open seas, where their nickname 'boucaniers' evolved into 'buccaneers', with the definition we all know today.
Hence 'buccaneer – one who uses a barbecue'.
Avast behind!