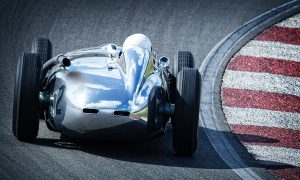 What part of your body disappears when you stand up? (Stop tittering at the back.) The answer I'm looking for is, of course, the lap.
A quick thumb through my DIY Guide to Mindful Self-surgery suggests that the lap is not a recognised part of the human anatomy, but an even quicker thumb through the Soho phone directory confirms that it is. And if it isn't, where are all those toy poodles supposed to sit?
A lap was originally a loose flap of material and the word came to be used for the flap of a shirt that hung down below the belt. It might also have described the loin cloth worn by the original Olympic athletes, until Orsippos (or possibly Akanthos, depending on which side of the Spartan divide your loyalties lie) shed his in 720BC and won the short sprint by a whisker.
Orsippos was lucky. He only had a short way to go. Runners in the endurance events had a long walk home, until someone had the bright idea of building tracks that went round bends and finished where they started. By the time the modern Olympics began in 1896, we had come up with a word for a complete circuit of such a track: a lap.
This is particularly important for modern endurance races, like the 24 Hours of Le Mans, which happens to be taking place this weekend. The record for the most laps completed in 24 hours is held by the three-man team of Romain Dumas, Timo Bernard and Mike Rockenfeller (yes, Rockenfeller), who amassed 397 laps of the eight and a half mile circuit in 2010.
Had they driven in a straight line, not only would it have made driver changes tricky but they would have ended up in Kazakhstan, somewhere near the copper mining town of Zhezqazghan.
Which reminds me of the sound made by my friend Macca on his first day in a new job, when we took him to our favourite local eatery – a greasy spoon in Dean Street, Soho, where the signature dish was a triumph of sausages juxtaposed with egg and beans, all for about four quid. It was a popular little caff and space was in short supply. We crowded onto a table, six of us, with large plates of sausages, eggs and beans, side plates of bread and butter and mugs of tea, all these circular receptacles jostling for position like coins in a Penny Falls machine.
And then the penny dropped. In a dreamlike moment of exquisite slapstick, it became apparent that Macca's plate of food was no longer on the table but upside down in his lap. One second he was slicing assertively into a sausage, the next he was sitting there with a mixture of outrage and resignation on his face, like a 70s sitcom character who's just had a small dog wee on his leg.
Sadly for Macca, it didn't disappear when he stood up, and as we escorted him sympathetically back to the office via a lap of Soho, the local dogs trying to lap at his bean-soaked lap, he emitted a sound like "Zhezqazghan". And frankly, I couldn't disagree.